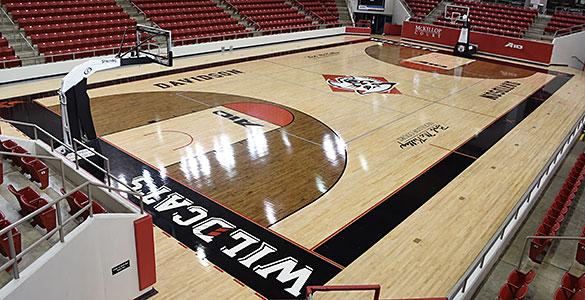 This is going to be a new series I am going to start about diving into about different Mid-Major teams. Mid-Majors have it rough and usually are these cinderella stories who somehow preform in the NCAA tournament. This is going to look into their returning players and their schedules once they come out, or if some have been announced.
Our first team will be my favorite, Davidson Wildcats.
Davidson finished the season at 24-10 after a tough loss to Lipscomb in the NIT tournament. A 14-4 conference campaign in the A-10 and and a bad loss in the A-10 tournament left the Wildcats a bit stunned for this offseason. Bad early season losses against Temple and Wake Forest really looked bad on the résumé. As for the A-10, most of their losses were ones that shouldn't have happened, the Saint Joseph loss by 1 early, a 3 point loss to UMASS, and a 1 point loss at home to Dayton were tough to swallow for the Cats. Davidson was eliminated from the A-10 conference tournament with a 23 point loss to Saint Louis and then again eliminated from the NIT with a 8 point loss to Lipscomb.
After a terrible way to end their season, and definitely undeserved, the Wildcats were hit with two bombshells on the same day. BOTH Kellan Grady and Jon Axel Gudmundsson declared for the NBA Draft. They are going to have until into June to decide if they are going to return to school for this upcoming year. Without these two, Davidson is going to have a very hard time finding any sort of success next year. 6'5″ guard Luke Frampton had a really good redshirt freshman year, and if Grady and Gudmundsson come back, these three could be a real threat within the A-10. Luka Brajkovic had a very good freshman year and is the first player in a long time to add a true post feel to McKillop's offense. Davidson's success is going to completely depend on Grady and Gudmundsson for next season.
As for the upcoming season, Davidson has announced it will be competing in the 2020 Maui Jim Maui Invitational. A decent field will provide the Wildcats a chance to show everyone that they are a true tournament team. Included in the field, Alabama, Indiana, North Carolina, Providence, Stanford, Texas, and UNLV.
Projection for next season: With Grady and Gudmundsson: above 20 wins, below 15 losses, NCAA Tournament appearance; Without Grady and Gudmundsson: around .500 record, no postseason appearance